Unclaimed money lists are the most valuable tool to unclaimed money finders.
Most states offer a search of their database online, but they don't give the valuable information that you need to work as a finder.
For example, if you were to do a search in California, you would have to enter a name and wait for the search engine to give you the results.
Let's enter "Smith" as an example: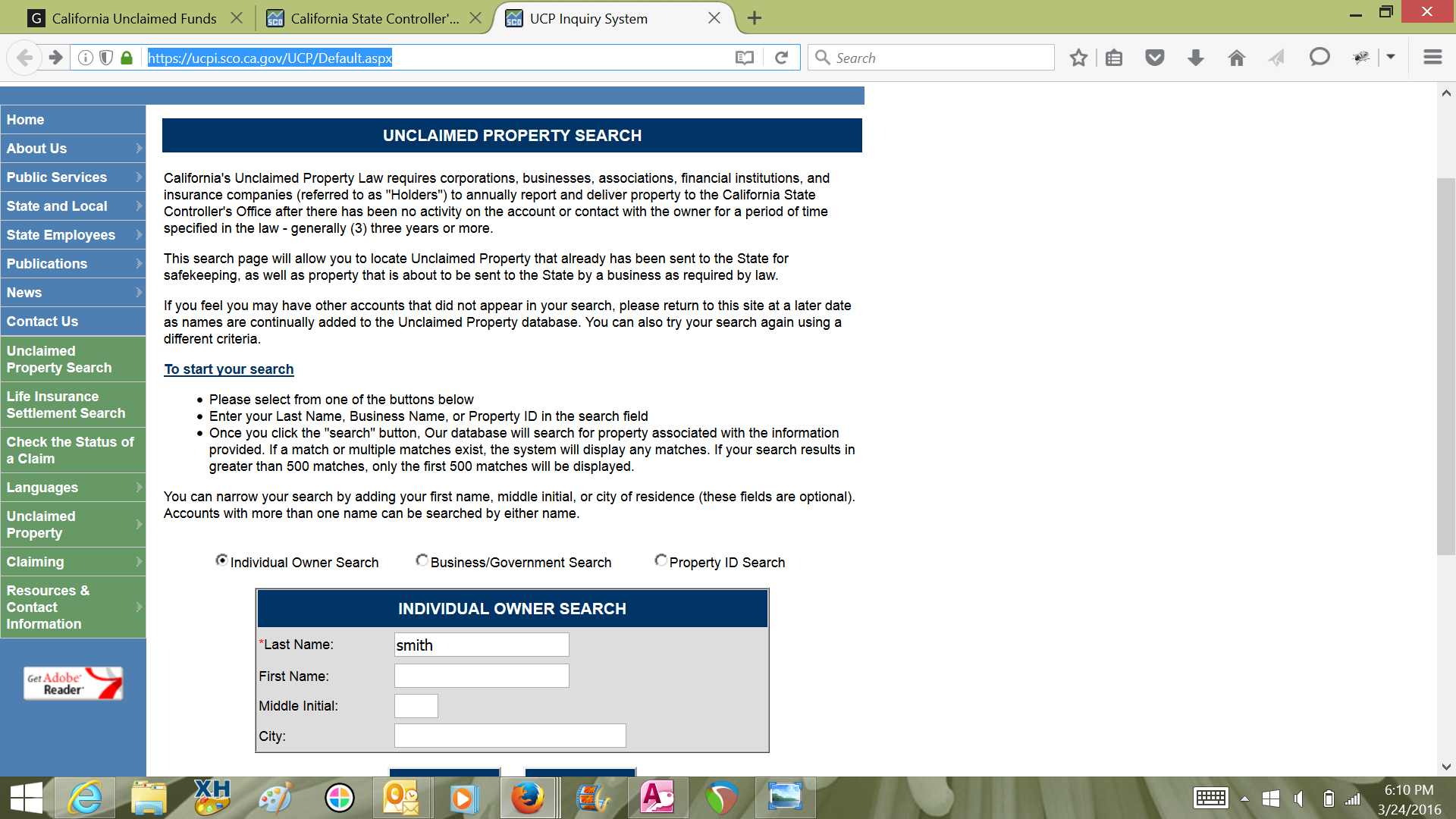 You can see that Smith being a common name offers over 200,000 results: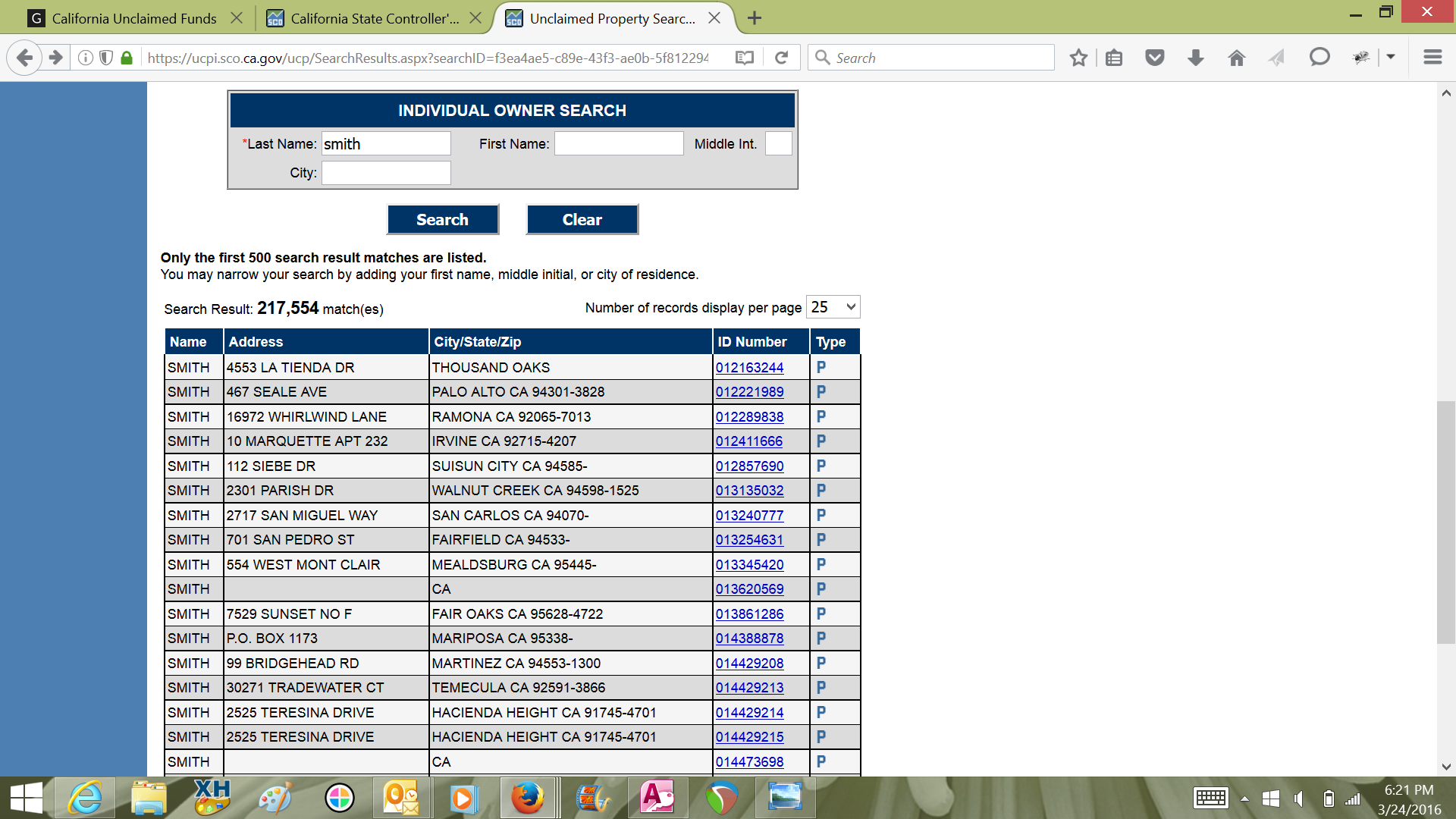 If you click on one of the tabs with an address, you will get more information, including the amount owed and where the money came from: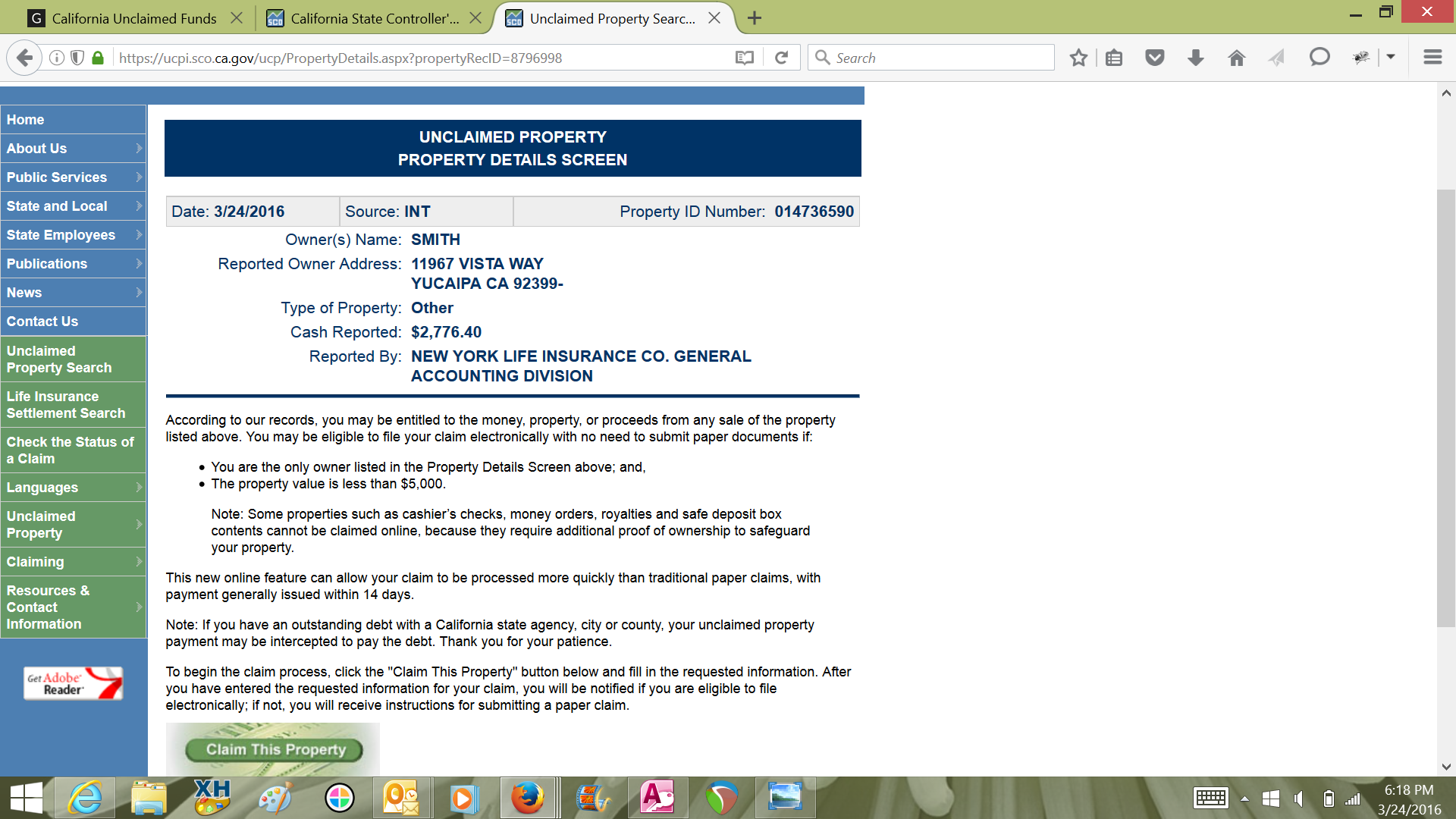 However, this is not the way you want to search for unclaimed funds as an unclaimed money finder!
Doing it this way (above), you're entering a name and then hoping to get a positive search result.  Then, if you do get a positive result, you have to see how much is coming to that person.
There is a much easier way!
Many states provide lists to finders that contain all of the information you need to start your searches.
Here is a screenshot of part of the list from California: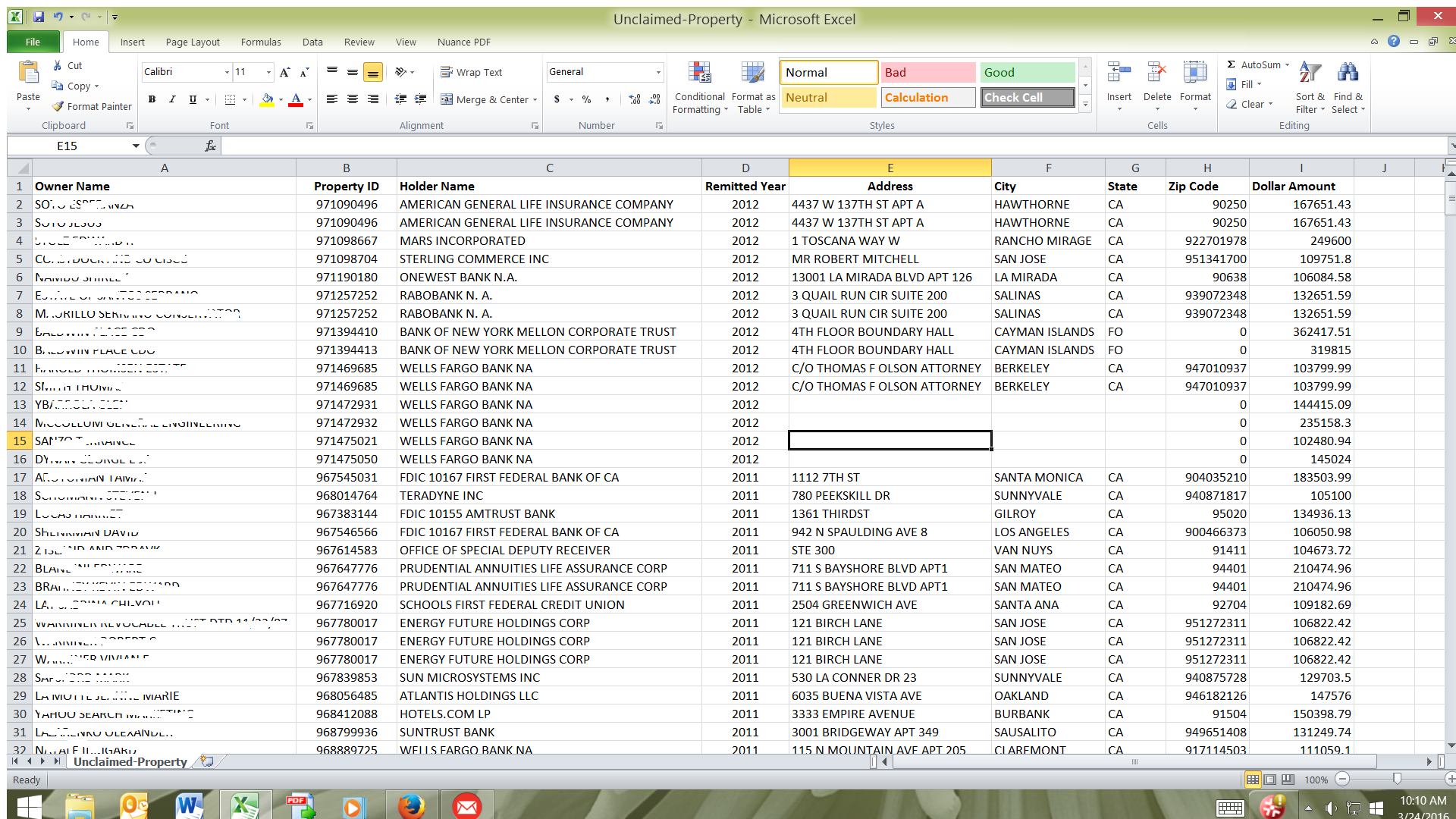 The names are whited out because you need to be registered in California to search as an unclaimed money finder there so we're really not supposed to show this information, but I want you to see the benefits of having a list to work from.
As you can see, you get the names, the addresses, the property ID and most importantly, the dollar amounts!
Now that you have everything you need, you can start your search the right way!
When you get the list from California you can sort it a variety of ways including by dollar amount.
The list in California sells for $150, which is on the higher end as far as lists go, but it does have millions of accounts on it worth over $6 billion!
All you need to do is find one person owed $1500 and you can make that back.
You can see the order form for the California list here.  However, as I mentioned, you do need to be registered in California to search there.  You can get more information on becoming a California unclaimed money finder here.
Not every list costs as much as California's does.  For example the unclaimed money list for Ohio is only $2.50.  This list has over 5 million names on it!
Here is a screenshot taken from Ohio's unclaimed money finder list: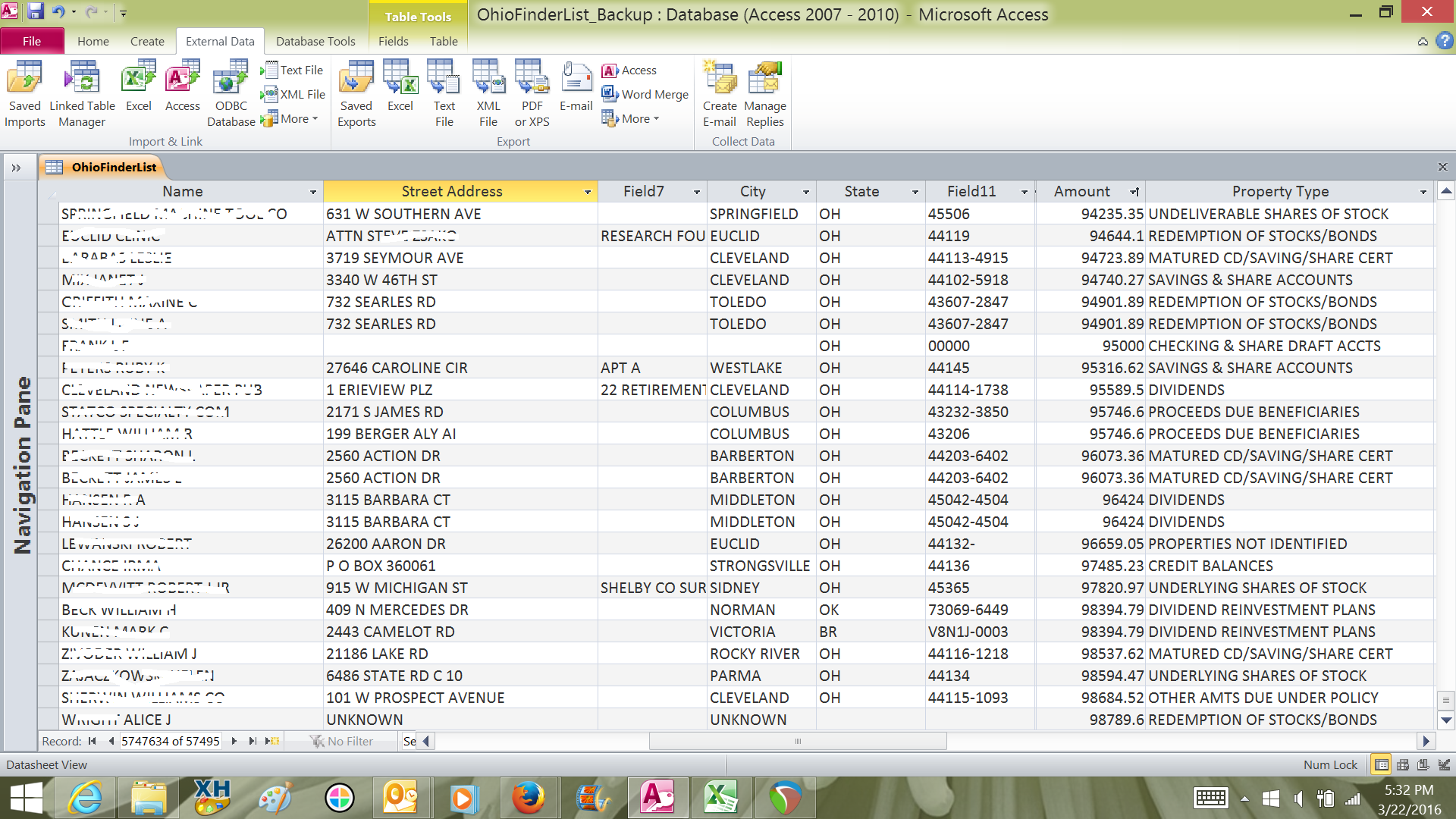 Again, I had to white out the names as you have to registered as a finder in Ohio to work with the list, but I wanted to give you an idea of what is available on these lists.
You can get more information on becoming an Ohio unclaimed money finder here.
Not every state charges for their list.  Alaska charges $25 for their list but offers it as a free download on their site.
Here is a screenshot of the list from Alaska: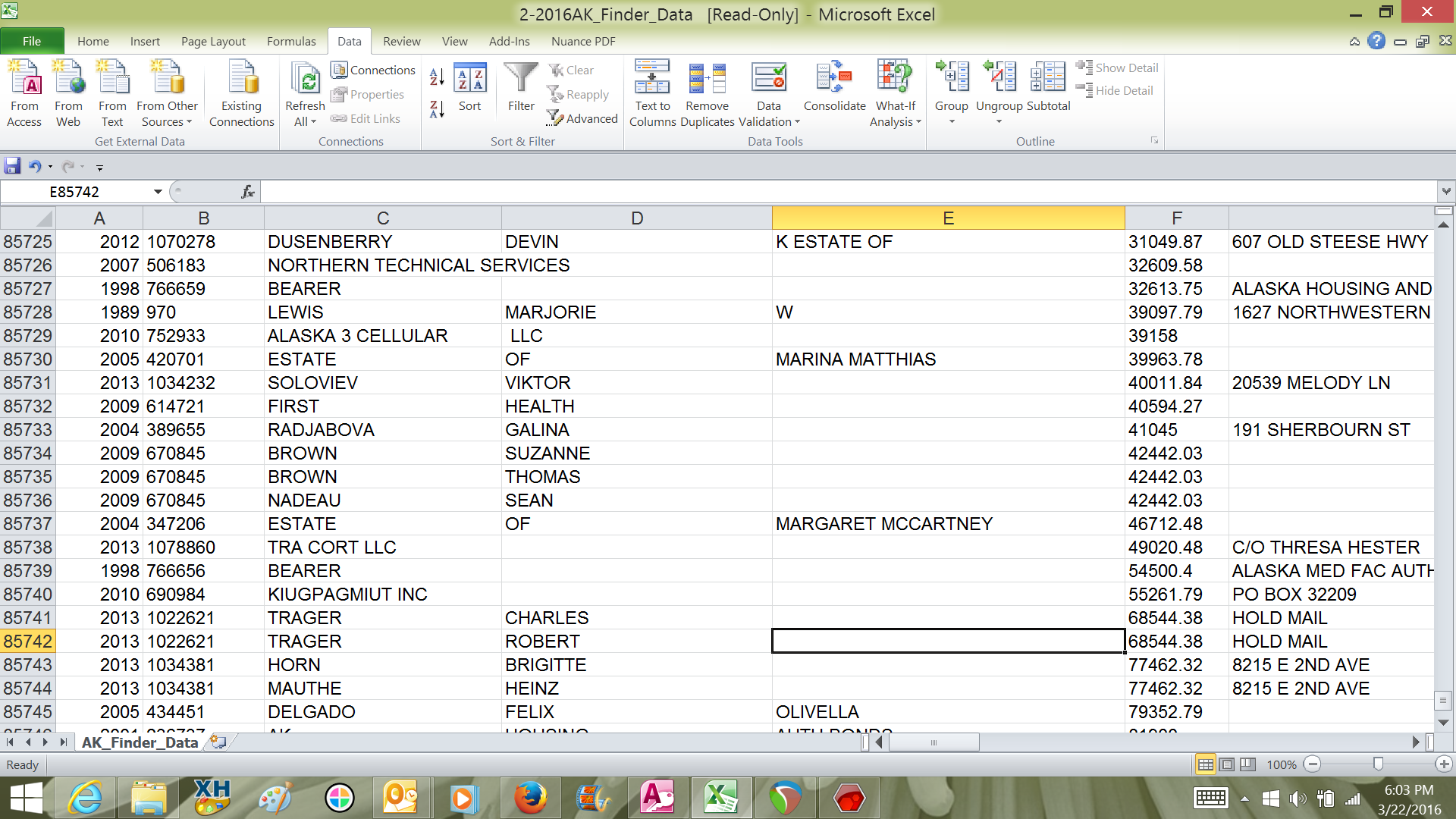 Alaska may be far away, but it is the same price for a stamp to send someone a letter letting them know they have unclaimed money coming to them as it would be for any other state.
You can get more information on becoming an unclaimed money finder in Alaska here.
It's not just states that let you find unclaimed money for a fee.
There are many counties holding unclaimed money that let you search for their owner for a fee.
Here is a screenshot from the Franklin County Auditor in Ohio:
Franklin County, as most counties with lists, do not charge for them.  They also have certain rules that you have to follow but they usually don't have limits on the fee you can charge (as opposed to most states).
Click here to see the professional Finder Guidelines in Franklin County.
The below table can be very helpful.  It contains information on the fees you can charge as an unclaimed money finder in a particular state, whether you need to be a private investigator or not, and the cost of the list used in your searches.
As I mention in the Guide , rules do change occasionally, so it is in your best interest to contact the state(s) you want to search in to make sure you have the most up to date information.
Use the "Previous" and "Next" arrows at the bottom of the table to go through the states.
State
Do you
provide
owner data
to asset
locaters?
Maximum
fee amount
(or NA)
Private
investigat or
and/or
other
licensure
required?
Required
to sell
owner
data by
statute?
Type of
Media
provided
Cost of
Media
What data is kept
confidential from
the asset locater?
What is the
period of
time that
owner data is
kept
protected?
Alabama
No
N/A
No
No
24 months
Alaska
Yes
10% & 20%
No
No
CD or
online
$25 CD
or
Free on
our
Website
SSN
24 months
Arizona
No
33%
Yes
N/A
N/A
All until a claim is
filed and they
produce a valid
POA
Indefinitely
Arkansas
Yes
10%
No
online and
list review
in office
N/A
24 months
California
Yes
10%
No
No
DVD's and
Online
$150
SSN and Account
No.
N/A
Colorado
Yes
20% & 30%
No
property desc, ssn/fein
24 mos
Connecticut
Yes
10%
No
Yes
CD of a PDF
file
$200
SSN
2 years
Delaware
Florida
Yes
20%
Yes
Social Security
Number and
Property Identifier
N/A
Georgia
Yes
10 Percent
No
No
CD
$50
Owner Address,
Property
Description, Dollar
Amt, SSN,
24 Months
Hawaii
Yes
25%
No
Yes
CD
NA
SSN
24 months
Idaho
No
No Limit
No
No
none
n/a
owner address,
property
description, dollar
amnt, SSN, etc
always
Illinois
No
10%
Yes
No
N/A
N/A
N/A
N/A
Indiana
Yes
10%
No
No
cd; depends
on extent of
request
$3
ssn
24 mos
Iowa
Yes
15%
Yes
Yes
CD
$25
SSN
24 months
Kansas
No
15%
No
No
N/A
NA
N/A
N/A
Kentucky
Yes
10%
No
No
Paper and
CD
Ten cents per page
Dollar amount,
SSN
24 months
Louisiana
Yes
10%
No
No
CD
$50
SSN
24 Months
Maine
Yes
No Limit
Yes
Yes
CD of PDF
report
$75
Amt, SSN
24
Maryland
Yes
No Limit
No
N/A
Paper List
Dollar
Amount/SSN
indefinitely
Massachusetts
Yes
N/A
CD
$10
Michigan
Yes
N/A
No
Yes
CD
2.5 cents per
record up to
100,000; 0.5 cents
per record over
100,000
owner address
and ss number
24 months
Minnesota
Yes
10% W/O
AGREEMENT
Yes
No
500/CD MN
BOOKSTORE
SSN
24 MONTHS
Mississippi
10%
Missouri
Yes
20%
No
Yes
CD
$50
No SSN, No dollar
amount over $50
(excpet life
insurance
amounts)
N/A
Montana
No
15%
Yes
No
N/A
N/A
N/A
N/A
Nebraska
Yes
10%
No
CD
$65
address, SSN.
property
description, specific
amount
24 months
Nevada
Yes
10%
Yes
No
CD
$20 per
year
SSN
24 months
New
Hampshire
No
No Limit
No
No
N/A
N/A
N/A
Indefinitely
New Jersey
No
20%
No
N/A
N/A
N/A
N/A
N/A
New Mexico
Yes
No Limit
No
N/A
paper list,
CD
ssn, account #
New York
Yes
15%
No
No
CD
$25
Dollar amt, SSN
none
North
Carolina
Yes
20% (or $1000, whichever is less)
Yes
Yes
CD
$15
SSN
24 months
North Dakota
Yes
10%
Yes
Yes
CD in PDF
format
$150 for
entire list
property value and
SSN
none
Ohio
Yes
10%
Yes
No
CD/DVD
$2.50
SSN, Acct# limited
to last 4 digits, FEIN
24 months
Oklahoma
Yes
25% of
property
value
No
No
CD
$25 CD
Only provide last
known name and
address
always except
LKN & address
Oregon
Yes
No Limit
Yes
Yes
CD, paper
$150 per
release
year
SSN
24 months
Pennsylvania
Yes
15%
No
No
CD
$300
SSN
24 months
Rhode Island
No
N/A
No
No
N/A
N/A
N/A
2 years
South
Carolina
No
15%
No
N/A
N/A
N/A
N/A
South Dakota
25%
No
N/A
N/A
N/A
N/A
N/A
Tennessee
Yes
10%
Yes
Yes
PDF
$200
SSN, HIPPA info
Property held
1 year from
date
advertised
Texas
No
10%
Yes
CD, online
Depends on what
is requested
SSN
SSN always
Utah
No
No Limit
No
N/A
N/A
NA
SSN, Acct #, $$
24
Vermont
Yes
10%
No
No
CD
$2.64 for CD
SSN, Account
Numbers
24 Months
Virginia
No
10%
No
No
CD if request
meets the
criteria of FOIA
reasonable cost to
produce as
allowed under
FOIA procedures
Everything except
Name and City
indefinitely
Washington
Yes
5%
No
No
paper list
cost of paper
SSN, owner names
N/A
Washington,
D.C.
Yes
10%
No
No
e mail/online
N/A
SSN, usually dollar
amount
12 months
West Virginia
Yes
No Limit
No
No
online
No fee
street address,
desc, amount, ssn
Indefinitely
Wisconsin
Yes
20%
No
Yes
CD
$150
SSN
12
Wyoming
Yes
No Limit
No
Yes
CD
$1,000
SSN
2 yrs
postescheat
Alberta
No
10%
No
N/A
N/A
N/A
N/A
N/A
British
Columbia
No
N/A
No
No
N/A
N/A
N/A
N/A
Puerto Rico
No
N/A
No
N/A
N/A
N/A